Hopeful Contacts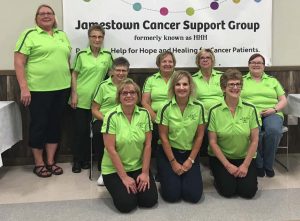 Members of the Jamestown Cancer Support group include: front, from left, Carol Stahlhut, Sandy Wilhelm and Mary Engels; middle row, from left, Cindy Willey, Laurel Haroldson, Kim Weyer and Barb Togstad, and standing, from left, Beth Dewald and Mary Klundt. Not pictured is Lucy Bardell, Kathy Schilling and Tanea Clocksene.
We are the team members of  Jamestown Cancer Support Group . We are all volunteers whose lives have been touched by cancer and we want to make a difference in the lives of people currently fighting the battle against cancer. The picture is from a "Quarter Craze" fundraiser which has been held at the KC Hall in Jamestown in September (except 2020 due to social distancing).
Hope is the most important word we have.  We have hope, we give hope, we believe in hope, and we hope that we can be of help.
If you or a friend are facing cancer and would like us to provide a gas gift card  to help with transportation to treatments or appointments or have any other need which might help with your healing, send us an email!
If you are able to help give hope to those dealing with cancer, let us know how you can help and how we can contact you! Our address is:
HHH@JamestownCancerSupport.org
Check out our Facebook page as well- Jamestown Cancer Support Group
or call Laurel Haroldson at 701-269-9543 (Mobile phone)